Zip Repair: User Guide
Main window
Repair the Zip file
Extract files from the Zip file
Test the Zip file
Create a Self Extracting Zip File

Limitations of the demo

Zip Repair Online
---
Main window
The diagram below shows what each of the buttons on the toolbar is used for.

---
Repair the Zip file
Repairing the zip file allows you recover most, if not all of your files. Depending if you have ticked re-compress a new zip file will be created or the contents of the damaged zip file will be extracted.

The new zip file or extracted files will be saved in the same location on your computer as the damaged zip file. Please note that the damaged file will not be changed.
---
Extract files from the Zip file
This option allows you to extract all / or some of the files from within a damaged zip file. You will be able to choose where you would like these files to be saved on your computer.
---
Test the Zip file
This allows you to see if any of the files within the damaged zip file are damaged.
---
Create a Self Extracting Zip File
To create a self extracting zip file, simply open an existing zip file and click on the menu item found in the Actions menu as shown below.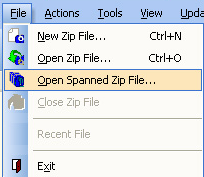 You will now be presented with this window: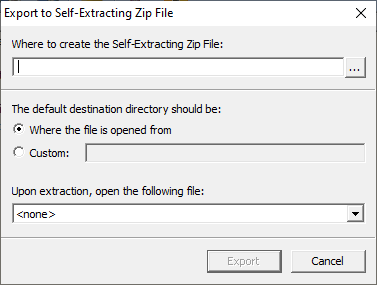 You will need to select where you would like the self extracting zip file to be created.

The default destination directory is where you would like the files within the self extracting zip file to be extracted to.

At the bottom of this window you have an extra option; this allows you to select one of the files from within the zip file, this selected file will then be opened once the self extracting zip file has finished extracting all of the files.
---
Limitations of the demo
15-day trial.
Can only extract one file at once from the zip archive.
Add and remove files from a zip archive have been disabled.
Repair archive has been disabled.
---
Zip Repair Online
Have you tried Zip Repair Online which uses the same technology as our Windows based software RentASoft Zip Repair.